Euroleague 2022-2023: 5 Most Disappointing Players & Their Struggles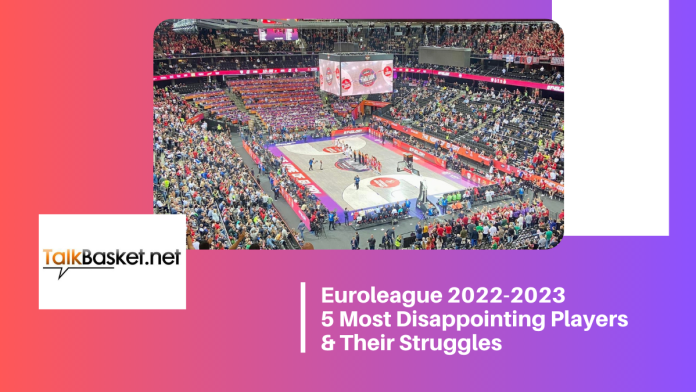 I dug into certain players based on their statistics in viziball and here is a list of the players that I think really could have made a difference but could not pull out the expected from them.
It does bring me to question what happened but that I would delve into more detail in another post some other time.
So here it goes in order of the players that played the most games but had the worst stats-lines:
Hassan Martin – Olympiacos to Crvena Zvezda
Hassan Martin, the underwhelming American pivot, made a transition from Olympiacos to Crvena Zvezda, expecting his performance to flourish. However, contrary to expectations, his scoring average decreased. Despite playing alongside talented offensive players, Martin couldn't find success, leading to his diminished impact on the team.
Marius Grigonis – Panathinaikos to Kızılyıldız
Marius Grigonis surprised many with his move from Panathinaikos to Kızılyıldız. However, his performances fell short of expectations. With significantly lower scoring averages and limited playing time, Grigonis failed to make a significant impact, leaving fans and critics disappointed.
Jordan Mickey – Zenit to Virtus Bologna
Jordan Mickey's career outside of Russia has been inconsistent. Despite not losing his skills, he struggled to consistently showcase his talents. While his underwhelming performance in Real Madrid was somewhat expected, his disappointing season at Virtus Bologna came as a surprise. With subpar three-point shooting and limited contributions, Mickey failed to meet expectations, hindering Virtus Bologna's success in a lackluster season.
Achille Polonara & Chris Singleton – Anadolu Efes
Ergin Ataman's successful coaching career has always emphasized the importance of point guards and power forwards. However, the power forward position was a major disappointment for Anadolu Efes this season. While Amath M'Baye's performance was relatively satisfactory, Achille Polonara and Chris Singleton's contributions were disastrous. Ataman's ability to maximize the efficiency of power forwards didn't extend to Polonara, who ended up being released mid-season, and Singleton failed to make a significant impact. Their underwhelming statistics shed light on why Anadolu Efes faced such disappointment in the Euroleague.
Ioannis Papapetrou – Panathinaikos to Partizan Mozzart
Ioannis Papapetrou's move from Panathinaikos to Partizan Mozzart generated excitement, but his impact fell short of expectations. Despite being one of the leaders at Panathinaikos, Papapetrou struggled to find his role in Zeljko Obradovic's team. His scoring average significantly dropped, and he failed to make a consistent impact on the court. Papapetrou's season with Partizan Mozzart left fans and observers disappointed.
The Outcome
The 2022-2023 Euroleague season brought its fair share of disappointments. Despite playing a significant number of games, these five players struggled to meet expectations. Whether due to decreased scoring averages, limited contributions, or an inability to find their roles within their respective teams, they left fans wanting more. As the season progressed, their underwhelming performances shed light on the challenges they faced and the impact it had on their teams.