LeBron James expected to extend with Lakers?
"All signs point toward both sides looking to extend their partnership together," ESPN's Dave McMenamin said of LeBron James. "It's already led to one championship in 2020. It's also led to two playoff appearances where they didn't make it, but overall I think both sides recognize that they can help one another get to their mutual goal, which is to compete at a high level and stay relevant as both one of the best players in the NBA and one of the most marquee franchises in the NBA."
Source: David Akerman @ Lakers Daily
What's the buzz on Twitter?

Keith Smith @KeithSmithNBA
We're 24 hours into LeBron James being extension-eligible and he hasn't signed one yet. Time to panic in Los Angeles? Nah.
I explained why for @spotrac and broke down all of James' options for his next deal which will start in his 21st year in the NBA:
spotrac.com/research/nba/n… – 5:21 PM

StatMuse @statmuse
Most PPG by a teenager (minimum 40 games):
21.9 — LeBron James
21.0 — Carmelo Anthony
20.9 — Luka Doncic
20.3 — Kevin Durant
19.3 — Anthony Edwards pic.twitter.com/SOQczlObRH – 3:01 PM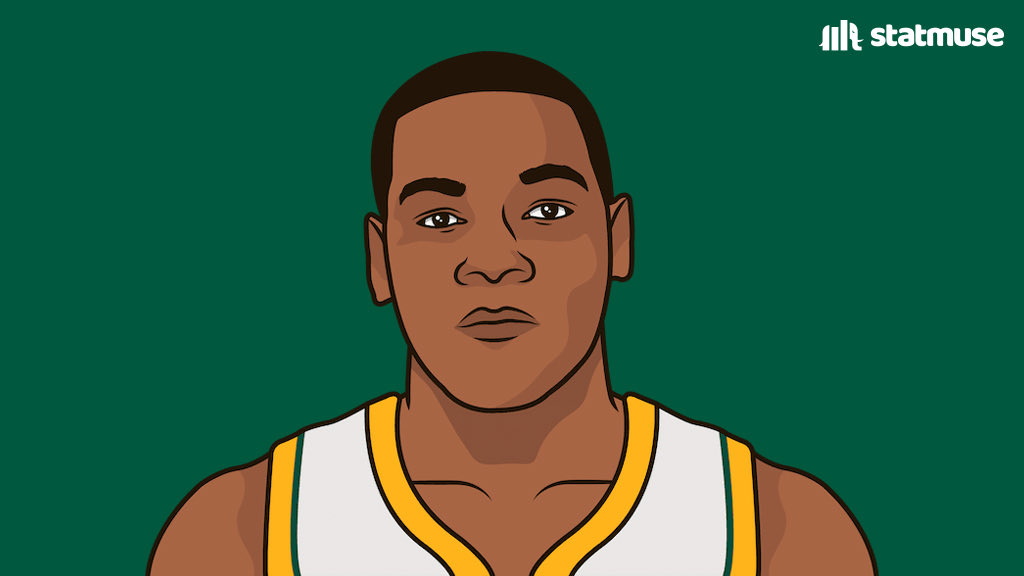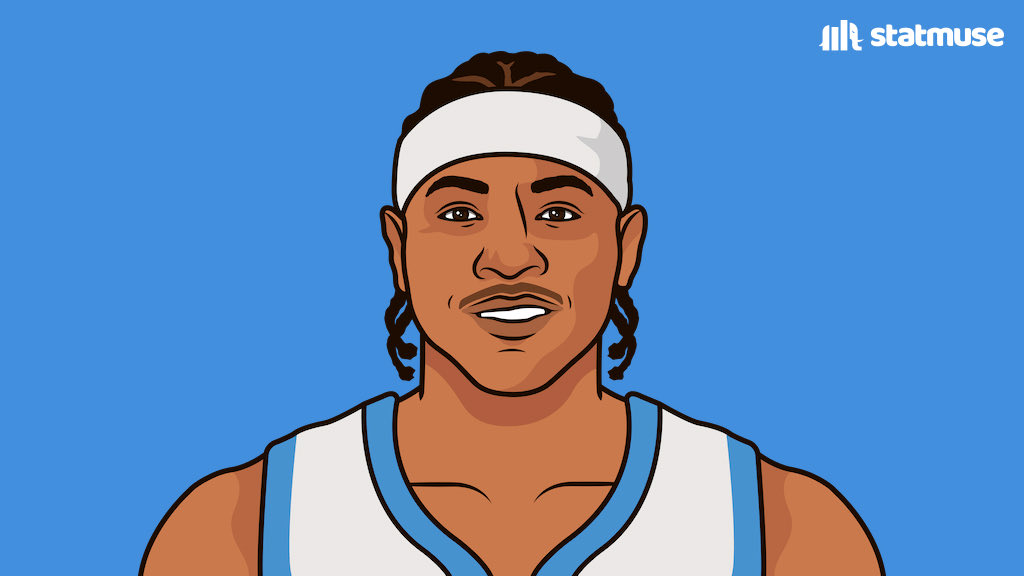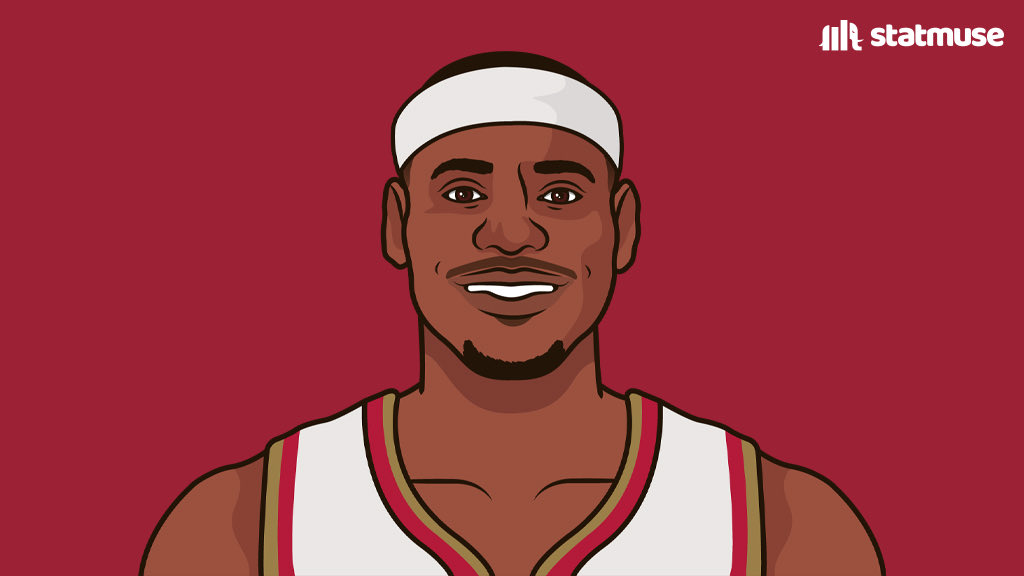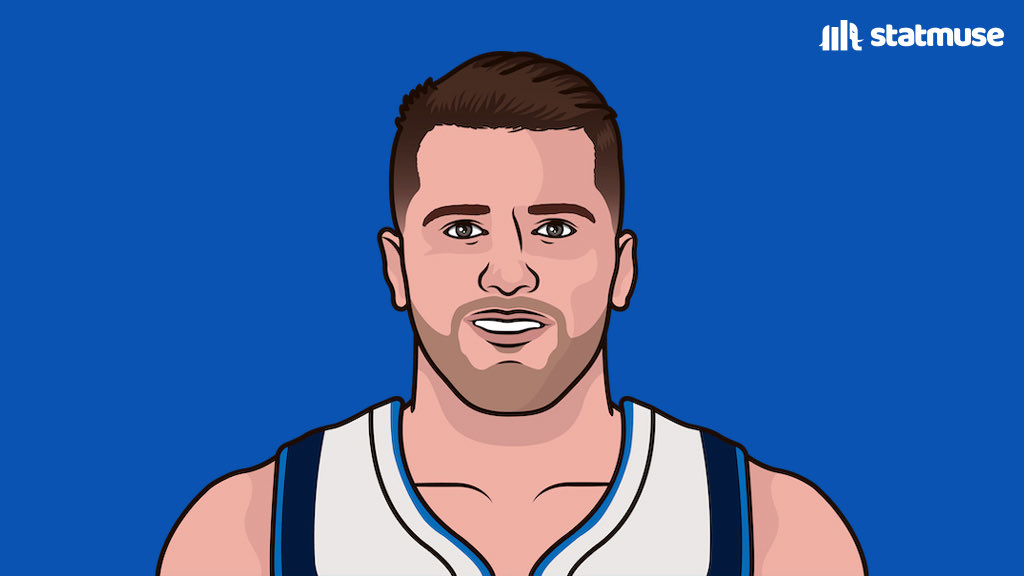 Justin Kubatko @jkubatko
🎂 Happy 21st birthday to Anthony Edwards!
📊 144 GP, 20.3 PPG, 4.7 RPG, 3.4 APG
🎯 42.9 FG%, 34.4 3P%, 78.1 FT%
Edwards has 2,925 career points. The only players in NBA history to score more points before their 21st birthday are LeBron James, Kevin Durant, and Carmelo Anthony. pic.twitter.com/5FKQ12KJ91 – 11:01 AM
Eurohoops @Eurohoopsnet
LeBron James discussing future with Los Angeles Lakers #NBA
eurohoops.net/en/nba-news/13… – 4:56 AM

Kurt Helin @basketballtalk
LeBron, Lakers reportedly have "productive" talks toward contract extension nba.nbcsports.com/2022/08/04/leb… – 7:12 PM
Dave McMenamin @mcten
New story: LeBron James and the Lakers discussed their future together on Thursday. Rich Paul, the CEO of Klutch Sports Group, told ESPN the talks were "productive" es.pn/3zW94hw – 6:50 PM

Eric Pincus @EricPincus
Latest @BleacherReport How LeBron's Extension Decision Impacts Potential Westbrook Trades, Lakers Future bleacherreport.com/articles/10044… – 2:20 PM

Joe Vardon @joevardon
How LeBron James playing alongside Bronny connects with Lakers extension — which they can offer today, ⁦@The Athletic⁩ theathletic.com/3468365/2022/0… – 11:42 AM

Marc Stein @TheSteinLine
LeBron James is eligible as of today for a two-year contract extension with the Lakers worth nearly $100 million.
Full preview: marcstein.substack.com/p/decision-tim… – 9:28 AM

Kurt Helin @basketballtalk
Family at heart of decision for LeBron on Lakers' contract extension nba.nbcsports.com/2022/08/04/fam… – 8:50 AM
Bobby Marks @BobbyMarks42
LeBron James is now eligible to sign a 2 year $97.1M extension with the Lakers.
Here are the options for James and the financial implication in LA, with or without a new contract.
Via @YouTube
youtube.com/watch?v=QJtxDd…
Via @espn
espn.com/nba/insider/st… – 7:23 AM

Chris Palmer @ChrisPalmerNBA
LeBron is dead set on playing with Bronny. Right now he's a fringe NBA prospect at best. Needs at least 3 years at a mid-major. That would be the 2026 NBA Draft. LeBron will be 42. Best case scenario is to go undrafted. Then sign a two-way with the South Bay Lakers. – 11:35 PM

Chris Fedor @ChrisFedor
LeBron James could sign an extension with the Lakers tomorrow. Or he could not. If he doesn't, buckle up. It could fuel speculation about a third #Cavs go-around, something the organization would be open to — under the right terms.
cleveland.com/cavs/2022/08/l… – 6:40 PM

NBA on ESPN @ESPNNBA
Could you see LeBron going back to Cleveland? 👀
@Bobby Marks on what could be a wild 2023 free agency ➡️ https://t.co/HDRpTfCDBd pic.twitter.com/WQNKfLr59L – 5:27 PM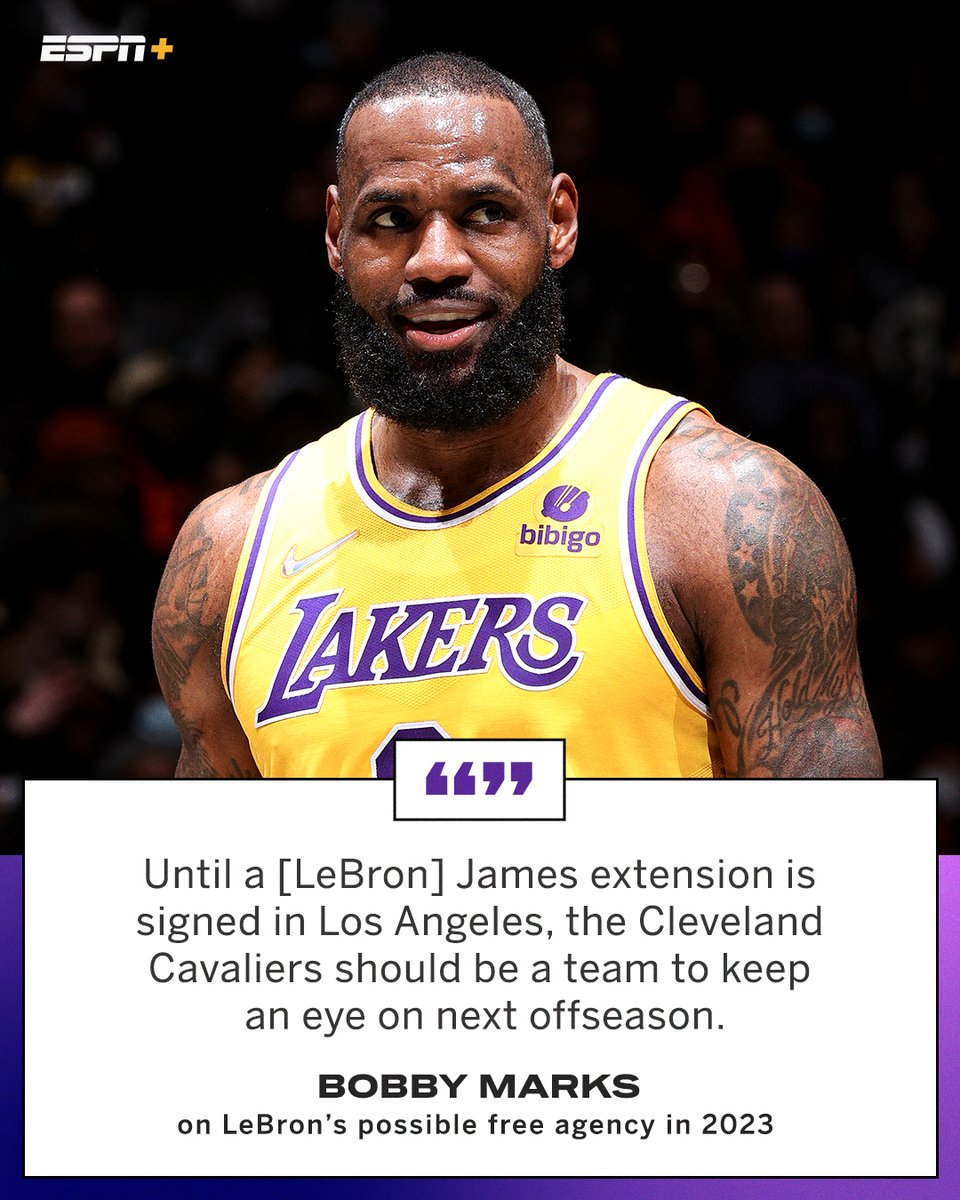 Chris Fedor @ChrisFedor
LeBron James to #Cavs for a third time? His looming extension decision could end all the speculation — or fuel it even more
cleveland.com/cavs/2022/08/l… – 1:13 PM

Chris Mannix @SIChrisMannix
NEW @TheCrossover Pod w/@Howard Beck: Remembering Bill Russell, a significant week for LeBron and the Lakers, the NBA's tampering investigation into the Knicks, Sixers, more. Links: bit.ly/2w1G5e2 – 11:25 AM

Chris Mannix @SIChrisMannix
Column: Will LeBron sign an extension this week? Unlikely, for several reasons. But if he doesn't the speculation about an LA exit — and another reunion with Cleveland — will begin si.com/nba/2022/08/03… – 10:48 AM

NBA on ESPN @ESPNNBA
All grown up 😮
(via @LeBron James) pic.twitter.com/I2X16K9BCU – 9:32 AM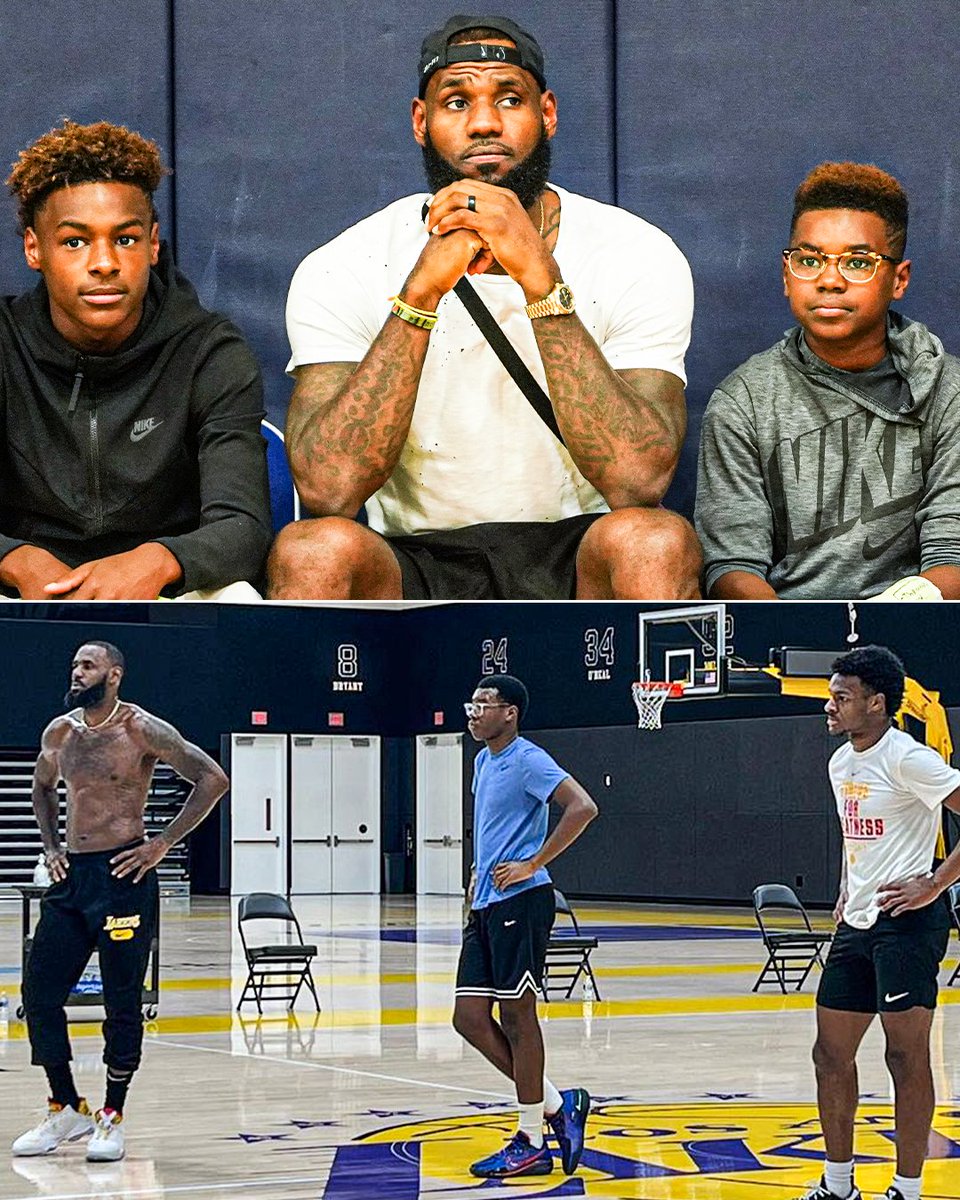 Allen Sliwa @AllenSliwa
'Lakers Talk' starts at 7p tonight…
-Will Lebron extend for 2 more years?
-Can Lebron pressure the LakeShow to trade Russ?
-If Russ stays, would he come off the bench?
Guest: @Jovan Buha of the @The Athletic
@ESPNLosAngeles – 9:19 PM
Micah Adams @MicahAdams13
The NFT of Bronny throwing down the first alley oop from LeBron is going to smash every sports collectible record.
The Honus Wagner T206 better enjoy its run while it can became the James gang is coming for it. – 9:16 PM

CBS NBA @CBSSportsNBA
Magic Johnson calls for Bill Russell's No. 6, currently worn by LeBron James, to be retired across NBA
cbssports.com/nba/news/magic… – 8:14 PM
James had Durant, LeBron James, Joel Embiid, Giannis Antetokounmpo and Luka Doncic in his list, but felt they are all capable of something that the reigning Finals MVP is not. James had Durant, LeBron James, Joel Embiid, Giannis Antetokounmpo and Luka Doncic in his list, but felt they are all capable of something that the reigning Finals MVP is not. -via San Francisco Chronicle / August 5, 2022
Paul told ESPN he expects both sides to continue a dialogue moving forward. LeBron James is entering the final year of his contract, worth $44.5 million, and will be 38 years old when his current deal is up. The maximum length of a contract a player aged 38 or older can sign is two years, according to the NBA's collective bargaining agreement. James has until June 30 to sign the extension before becoming an unrestricted free agent. -via ESPN / August 4, 2022
Dave McMenamin: LeBron James and his representative Rich Paul of Klutch Sports met with Lakers VP of basketball ops and GM Rob Pelinka on Thursday regarding James' eligible contract extension. Paul told ESPN the discussion was "productive" and both sides will continue a dialogue. -via Twitter @mcten / August 4, 2022