Kevin Durant to meet with Nets owner Joe Tsai this week?
Much of the NBA is settling in for a long wait on hold before the Kevin Durant situation is resolved. But one league executive believes there could soon be a chance for clarity at least. "What I'm hearing is that KD is going to meet with the owner this week," the source told Heavy Sports. "He's going to go directly to the owner, Joe Tsai, sometime this week. We'll see how that works."
Source: Steve Bulpett @ Heavy.com
What's the buzz on Twitter?

Steve Bulpett @SteveBHoop
New:
Source tells me Kevin Durant is expected to meet with Nets owner this week: "I have no idea what's going to come of that meeting. There are some things that KD is unhappy about, and I'm not sure any of that gets fixed here. But maybe it does."
bit.ly/3cQ0Tu4 – 4:14 PM

Sean Deveney @SeanDeveney
BREAKING NEWS from @Steve Bulpett …
Source tells @HeavyOnSports that Kevin Durant will meet with @Brooklyn Nets owner Joe Tsai this week as his request for a trade has reached a stalemate.
Full story:
heavy.com/sports/brookly… – 4:08 PM

Marc Stein @TheSteinLine
5 PM ET today: Hosting an hour of NBA chat via @SpotifyLive alongside my pal @Gary Washburn of the @BostonGlobe. We'll talk Bill Russell's peerless career, Celtics/Kevin Durant and more.
But first: Soon publishing the Tuesday Newsletter Extravaganza at marcstein.substack.com. – 12:45 PM
Tas Melas @TasMelas
Now do Kevin Durant – 12:24 PM

Keith Smith @KeithSmithNBA
Passan tweeting about the Soto trade.
Schefter tweeting about major punishment for the Dolphins.
We need Woj to drop a KD or Mitchell trade ASAP for the trifecta. – 12:04 PM

Doug Smith @SmithRaps
Is today the day the Blue Jays trade for Kevin Durant? – 8:51 AM

Emiliano Carchia @Sportando
Mike James reveals Kevin Durant called him before NBA Playoffs saying 'Nets fitting to lose' sportando.basketball/en/mike-james-… – 7:16 AM
BasketNews @BasketNews_com
Mike James revealed Kevin Durant's bad feeling about the Brooklyn Nets' playoff chances 👀 pic.twitter.com/uavDPZNktl – 3:46 AM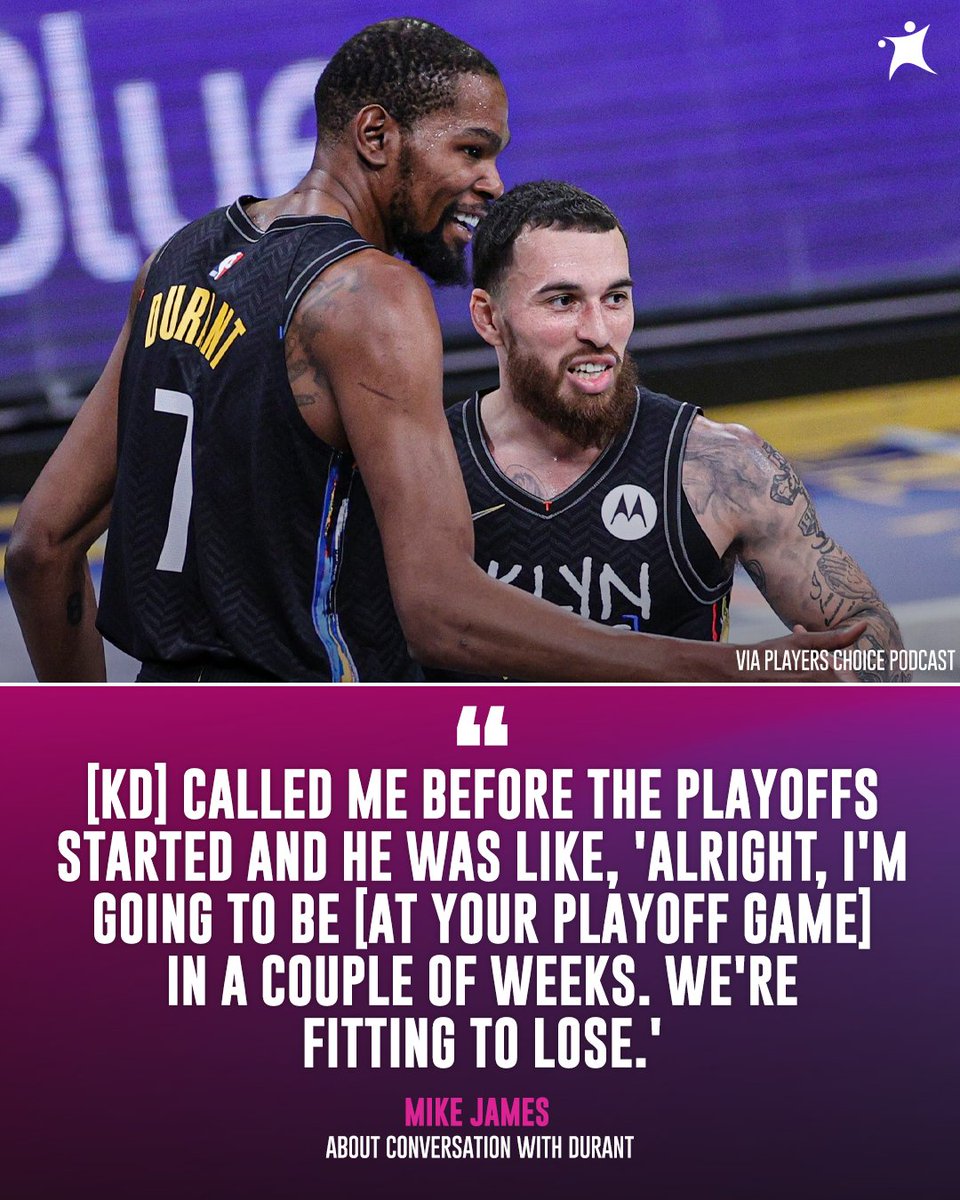 Henry Abbott @TrueHoop
While @jshector and @David Thorpe were on vacation last week, I had extra time to think about Jaylen Brown, Kevin Durant, and brain science. truehoop.com/p/remembering-… – 3:29 PM
BasketNews @BasketNews_com
At first, Mike James thought there was no way Kevin Durant could come & watch him play in the EuroLeague playoffs.
But when the Nets started to lose in their playoff series, Durant was sure about making that trip to Europe ✈️
basketnews.com/news-175948-mi… – 3:18 PM
Duane Rankin @DuaneRankin
"I'm like, nah man, don't put me in this. And next thing you know, somebody on TV was like naming the potential trade targets. Naming DA, me, Mikal. And I was like, come on man, but it's the business."
Cam Johnson 1st react to Kevin Durant's request. #Suns https://t.co/qzW5vHzXhy pic.twitter.com/WEjGdLQ0hK – 9:29 PM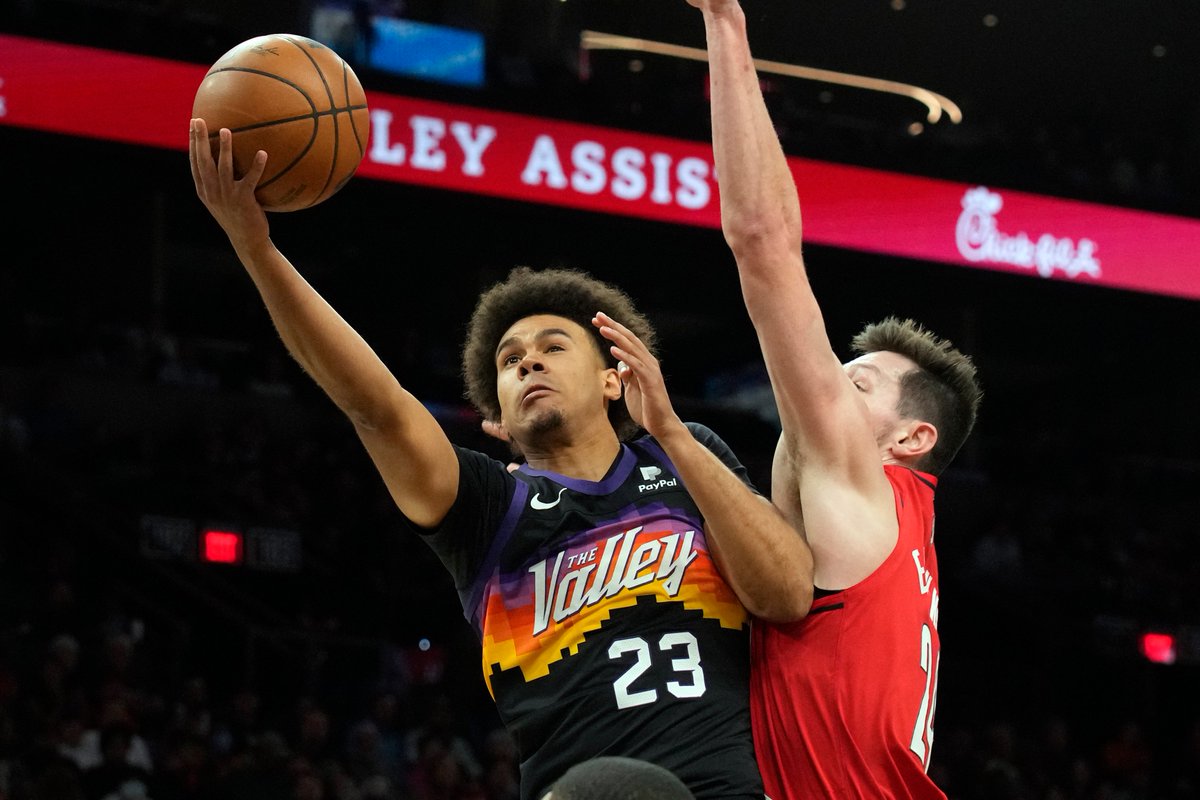 Gerald Bourguet @GeraldBourguet
Cam Johnson discusses offseason, Suns future amid Kevin Durant trade rumors – https://t.co/xPaClZohlk via @PHNX_Suns pic.twitter.com/5N8rwU0zlG – 3:01 PM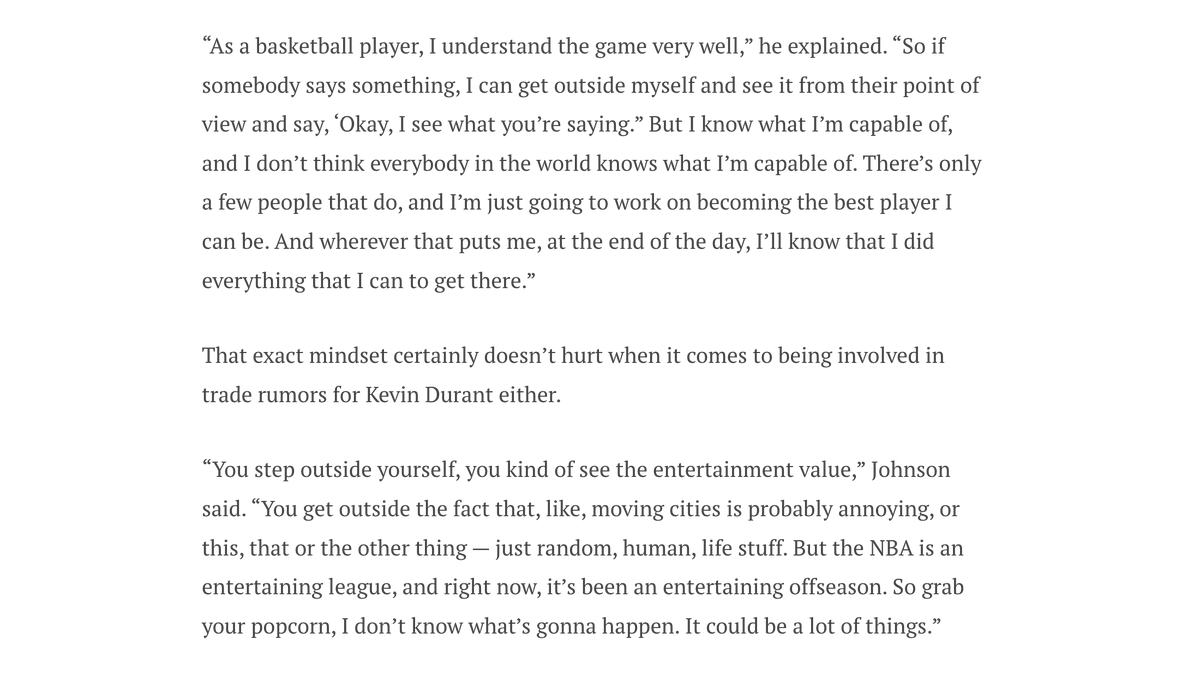 A. Sherrod Blakely @ASherrodblakely
We're just about a month into KD's trade request, and there hasn't been much traction. He's a generational talent, but acquiring him comes at a steep asking price. There's another major concern if you're the Celtics. fullcourtpress.bulletin.com/the-celtics-bi… – 11:26 AM
Duane Rankin @DuaneRankin
1-on-1: Cam Johnson discusses future with Phoenix #Suns, trade rumors, Kevin Durant, Deandre Ayton and more in Q&A. #Suns azcentral.com/story/sports/n… via @azcentral – 11:19 AM

Ric Bucher @RicBucher
Can Celtics trade for Kevin Durant without sacrificing their identity (i.e., Marcus Smart)? foxsports.com/stories/nba/ca… – 11:14 AM

J. Michael Falgoust @ThisIsJMichael
The only downside of these pro-am games and stats is what the debate show cycle will do with them starting Monday and every day after provided they still have time after talking some more about Lakers/Russ/KD/Kyrie 😎 – 11:26 PM
Duane Rankin @DuaneRankin
👀👀 for my 1-on-1 with Cam Johnson tomorrow morn as he and I talked about the following:
1. Trade talk (Kevin Durant)
2. Deandre Ayton max.
3. Game 7 flop vs. #Mavs
4. Future with #Suns
5. And more.
Started off asking him to pick his all-time 3-on-3 team:
Jordan.
LeBron.
And? pic.twitter.com/Nw1xJEKMCq – 8:29 PM
Evan Sidery @esidery
The Suns seem content running it back while also holding out hope for Kevin Durant's arrival. Even without Durant, Phoenix still forecasts as one of the best teams in the West.
For @basketbllnews, I explain why the Suns remain in a comfortable spot: basketballnews.com/stories/nba-ph… – 6:31 PM

Nick DePaula @NickDePaula
At @TheCrawsover in Seattle, @Chet Holmgren breaks out the 'N7' KD 6s from @Kevin Durant's MVP season.
@shobasketball x @Jamal Crawford pic.twitter.com/ozMr495csn – 5:30 PM
Whether the intent of the meeting is to smooth over a relationship that suffered at least a hairline fracture when Durant, with four years left on his contract, asked to be traded is uncertain. "I don't know," said the exec. "I have no idea what's going to come of that meeting. There are some things that KD is unhappy about, and I'm not sure any of that gets fixed here. But maybe it does." -via Heavy.com / August 2, 2022
A personnel exec from another club expressed disappointment with the process. "I think there's some teams that aren't very happy that when they talk to Brooklyn it gets in the papers," he said. "That doesn't help. I've talked with a couple of teams that are not happy with the rumors that creep out of there through all this. It's not a good way to do business." -via Heavy.com / August 2, 2022
Mike James talked about their conversations leading up to Kevin Durant showing up to support him. James and Durant agreed that whoever's season ended the first, the other would come to watch them in the postseason, he confirmed. -via Nets Wire / August 1, 2022