Zach LaVine an option for Mavericks?
Sources nonetheless maintain that one option already being weighed by team brass is the prospect of joining the sign-and-trade bidding for the Chicago Bulls' Zach LaVine, amid a growing belief around the league that LaVine, as he heads into free agency, has more interest in leaving Chicago than initially presumed. Atlanta, Portland and San Antonio — all of whom possess either the cap space or the trade pieces to more readily chase him — have already been mentioned as likely LaVine suitors.
Source: Marc Stein @ marcstein.substack.com
What's the buzz on Twitter?
Bobby Marks @BobbyMarks42
From @KeyJayandMax
Bobby Marks says it's very unlikely Zach LaVine ends up with the Lakers … youtu.be/kEN_N7xrgyo via @YouTube – 1:18 PM

Ryan Ward @RyanWardLA
Odds have surfaced regarding Zach LaVine's next team. Although a stretch, it's no surprise the Lakers are on this list, via @betonline_ag: pic.twitter.com/WUeRR6tqqb – 12:21 PM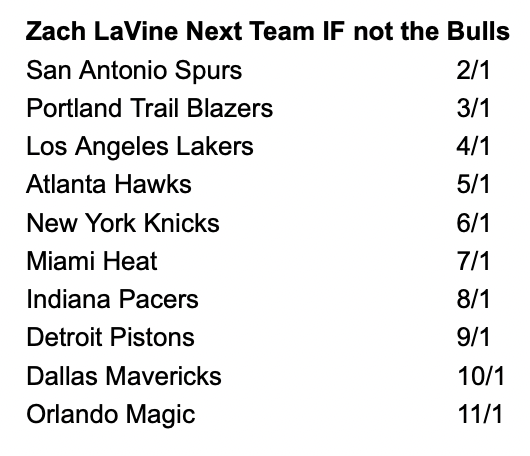 Rod Beard @detnewsRodBeard
Vegas wants your money on Zach LaVine's next team (if not the #Bulls)
#Pistons at 9/1, tho ???
From @betonline_ag pic.twitter.com/ILVJZGdBwy – 11:46 AM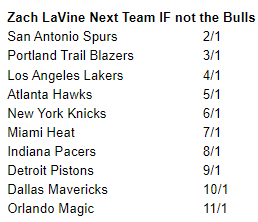 Josh Martin @LonzoWire
The Chicago Bulls feel confident that they can re-sign star guard Zach LaVine in free agency. lonzowire.usatoday.com/2022/05/26/bul… – 6:00 PM
Josh Martin @LonzoWire
Chicago guard Zach LaVine underwent successful arthroscopic knee surgery this week. lonzowire.usatoday.com/2022/05/25/zac… – 1:00 PM

CBS NBA @CBSSportsNBA
Zach LaVine free agency: How star guard could fit with Lakers, Blazers, others if he leaves Bulls this summer
cbssports.com/nba/news/zach-… – 11:25 AM
Josh Martin @LonzoWire
The Chicago Bulls feel confident that they can re-sign star guard Zach LaVine in free agency. lonzowire.usatoday.com/2022/05/26/bul… – 9:36 AM

Kurt Helin @basketballtalk
Are LaVine rumors smoke without fire? Report says teams expect him to re-sign with Bulls nba.nbcsports.com/2022/05/25/are… – 5:01 PM

Sean Deveney @SeanDeveney
All about the agents? Some NBA sources are saying Klutch is behind the Zach LaVine – @Chicago Bulls situation: "The more drama in the process, the better. No one was talking about Zach. Now everyone is. Mission accomplished."
More from @HeavySan :
heavy.com/sports/chicago… – 12:05 PM
Josh Martin @LonzoWire
Chicago guard Zach LaVine underwent successful arthroscopic knee surgery this week. lonzowire.usatoday.com/2022/05/25/zac… – 11:21 AM

Kurt Helin @basketballtalk
It's official: Bulls' Zach LaVine has arthroscopic surgery on left knee nba.nbcsports.com/2022/05/25/its… – 11:01 AM
Bobby Marks @BobbyMarks42
Zach LaVine (with no All-NBA)
Chicago: 5 years $212.3M
Not with Chicago: 4 years $157.4M – 8:39 PM
The word choice there does not appear to be accidental. Sources with knowledge of the Mavericks' thinking say that the team, for all of Dončić's individual brilliance, remains intent on finding at least one more All-Star-caliber player to complement him, fearful that it would be too difficult to win another championship without one. -via marcstein.substack.com / May 27, 2022
He offered that with a caveat though. "I'm just reporting what I was hearing at the Combine – and that is multiple people connected to other teams, agents, etc., the chatter at that Combine, the representation of that chatter is that Zach is very much in play," Johnson said. "Now that said, the Bulls are still very confident in their ability to re-sign Zach LaVine. Michael Reinsdorf has said it. Arturas Karnisovas has said it. They still have the power to pay him more than any other franchise." -via Audacy / May 26, 2022
🎥: K.C Johnson: Bulls' Zach LaVine going to explore options during free agency | NBC Sports Chicago -via Twitter / May 26, 2022